Martin Petlach with Vaclav Hudeček and with the winner of Hudecek's violin course Josef Spacek. Mr Spacek won violin from our atelier.
Philharmonie Marchefeld "Austria"
Miroslav Gajdos, Contrabass artist, composer and leader of Bass clum KM, member of international contrabass competitions.
Ich danke dem Meister Jiri Petlach für die sehr gute Restaurierung von meinem italienischem Kontrabass. Andreas Schmidt / Deutschland
Radoslav Sasina profesor of VSMU in Bratislava SK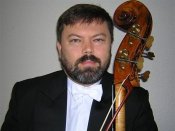 Jaromír Honzák, jazz contrabass player and composer.
Martin Petlach and Jaroslav Sveceny at the violin competition in Nachod CR.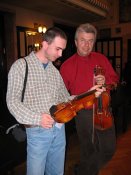 Petr Korinek, contrabass player and composer.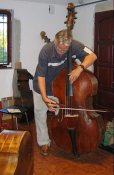 Emmanuel Sideridis. Synchrono Conservatory of Thessaloniki. Greece
Pavel Klecka, Leader of Contrabass group Prague Philharmonie and profesor of Music school in Brno.
Petr Suchy, member of Orchestra on National Theatre in Brno, Contrabass player of groups Javory and Druha Trava
Dalibor Tkladlcik, solo contrabass player and leader of contabass group in orchestra of National Opera in Prague
Petlach and violin player Peter Mikulka - instrument consultation.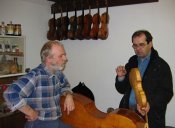 Jiri Milota, violon player.